Since the weather was a little less than spectacular on this day, we made sure to bring our rain gear. We started the day off wearing our ponchos. The rain didn't last all too long and was never too much of a downpour, so it really just helped to act as a people deterrent. This time at Magic Kingdom, we had a plan.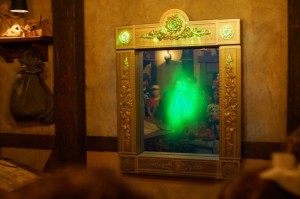 We headed straight to Tales With Belle. There, we barely had any wait and got in with the first group. For this, everyone goes into a cottage where there is a magic mirror. We make a wish and the mirror transforms into a doorway into the castle (take me to the day that bell and the beast fell in love – or something along hose lines). Everyone in the group goes through the mirror and we are taken into the a room where members of the audience are selected for a play that they were to put on for Belle. The Disney staff member firsts selects people and then whoever is left can join in the cast. Violet was selected to play Mrs. Potts and she and Chip the cup were to hop in the play and Violet also poured tea (tipped herself over – it was cute).

Now, this day was starting off rough for Hayden, and he wasn't having much of this and he refused to participate. We knew that if he didn't have a part, he wouldn't get to have his picture taken with Belle. We really tried to get him to take the plate and just stand there, but he would not take his hands out out of his pockets or acknowledge when someone was talking with him. He ended up sitting with Mike in the back and watched as Violet put on the play with the other people. It was pretty cute. Belle was very genuine seeming (as much as a Disney princess would act in my mind that is) and Violet had a great time. I was concerned that Hayden would have a problem when it came time for photos, but he wasn't fazed at all. Vi got her picture and we all moved on.
As I said, the rain was an awesome thing for us. We were off to Splash Mountain. No wait and we got right on. I wasn't sure if this ride would be too much for the kids as I had no idea as what to expect. On this ride there are a few smaller drops and the ride takes you through the story of Brier Rabbit, fox and bear. It is very loud, dark and even a little scary at times – especially right before the big fall. The kids loved it! We went on it again and once more had no wait. From there, we went on the Big Thunder Mountain Railroad [roller coaster]. This one was pretty fast and aggressive, more than I had expected. Hayden went with both arms in the air, screaming loud screams of joy. Even Violet did great. Since it jostled so much, Violet needed someone to put their arm around her mainly to keep her from shaking too much. After riding that twice, it was back to Splash mountain, and then riding these both a fee more times.
Today was our scheduled character lunch at the Crystal Palace. One frustrating thing that we learned pretty quickly is that even if you have reservations, there is still a wait. Once we were seated, Hayden's priority became food, not seeing the characters. How it works, is there is a buffet, and and while you eat the characters make their way around to each table. The first one that came around was Tigger. Violet was really excited, but Hayden didn't even want to give him a hug. He barely gave m a high five, but did manage to do that. Next came Piglet. I think that by now the food had begun to make him a little less grumpy and he got into the whole "character" thing. As the characters were making their way around, the kids ate their lunches. I have no idea how often the characters have to get their costumes cleaned thanks to all of those messy little hands. Violet did comment that Eyor was not nearly as soft as the others. Pooh was the last to visit us, and we weren't sure that we were going to see him. It all worked out. The food was okay, but not the greatest. Desserts were good though.


After lunch we headed over to Buzz Lightyear's Space Ranger Spin. This was another one of those conveyor belt on and offs, so that was cool. We sat two people sat per "spaceship" and competed against one another by shooting aliens with their lasers. It showed how ,Amy points each player received. Mike beat the rest of us. I think part of that depended on the gun you had. Violet really wanted to go on 'it's a small world" so that's where we headed next. Hayden was getting super sleepy by this point. Then left. Hayden very tired. Fell asleep on my I think the kids liked this ride, but it was just going in a boat while 'it's a small world' played in all sorts of languages over and over again. By that time we were done, Hayden was even more tired. Mike carried him to the bus and sweet little Hayden fell asleep on mikes shoulder and continued to sleep on the bus.
Nap went well and we decided to drive to the Polynesian resort in order to take the monorail backtrack o the magic kingdom. We wanted the kids to be able to experience all of the modes of transportation available at Disney. The monorail wasn't very fast, however, as thery were having troubles with the monorail before ours.Once back in the park, we decided to go on a rocket ride before dinner. This was a very high ride, similar to dumbo, but on the top of a building and in rockets, so they were much faster than dumbo. To get up to the ride, everyone crams in an elevator… Not so much fun for me. At the top, I was in a rocket with Violet and Hayden was with mike. Violet ended up getting a little scared, so we didn't even get to have our rocket go up very high as it spun around. Oh well. Hayden, on the other hand, only wanted his rocket to be at the very top. Hayden really enjoyed it, Violet was fine to not do it again.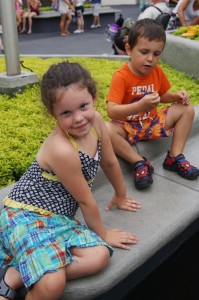 For the meals, we realized that it worked well for mike to go and get food for all of us and I managed the kids. For this dinner, Mike ordered a half of a chicken and a half rack of ribs for each of us, while the kids had chicken with green beans. We ate at the same place we did for lunchtime he when we were at the Magic Kingdom previously. The quantity of food was staggering.

As it was getting later, we let each kid pick what they wanted to do. Therefore, we headed back over to the Buzz Lightyear ride. The kids really had fun with this one. By now it was just starting to become dusk, and we waited in line at the speedway to drive cars. This reminded me of driving the cars at Michigan's Adventure. I rode with Violet and although she wanted to drive in the beginning, she changed her mind once we were in the car so I ended up driving from the passengers seat. She enjoyed it.

We really relied heavily on a Disney tour book to get ideas and tips and recommendations for our trip. One item that were really glad that we read was a squirting train water area. We had our kids put on their swimsuits under their clothes so that when time came to go to this area, it wouldn't matter if they got drenched. And did they ever! It was great. Water is sprayed from all over from the huge circus animals and hoses. The kids absolutely loved it and it was getting darker now, so to me between the laughter from our kids (they were the only ones in this section of the park) and the lights and peacefulness, this was the first "magical moment" I think I had for our trip.

Since we were nowhere near the front of the castle for the fireworks (which is the best viewing area), we decided to take a seat where we were to enjoy the show. Even though it was less than ideal, we were still able to see all of the fireworks that were in the sky. It was pretty cool. I'm sure that the effects are better from the front of the castle, but really for our kids, this was just fine.

By the time the fireworks were done, the kids were much drier, so we decided that it would be fine to make it a later night, and with fewer people there were no lines on the rides. We made our way to Goofys roller coaster (where you ride in 'airplanes'). This was a pretty small and quick coaster. Both kids really enjoyed it. We went on this three or four times with no waits. We decided to go on Dumbo one last time before we said farewell to the Magic Kingdom. This experience riding dumbo was much nicer as there was absolutely no line.
Since our car was at another resort, we decided to take the boat back. We'll, we missed the first boat and the wait was so long. Luckily, the kids made a friend in line and they were kept busy. She and her family were from Georgia, and the kids were diappointed that they wouldn't be able to play at each others homes after Disney. It was pretty adorable. They were all very nice. Once the next boat arrived the kids wanted to sit with the other girl, so we all piled in at the back of the boat.


From the boat, we were able to see the electric light parade on the water. It was cool. There was a huge dragon, octopus, some dolphins, a turtle… There were some other things, I just don't quite remember. Finally, we got back to our car, headed to our own resort, and all were out before too long after such a full day.