[vc_row][vc_column][vc_column_text]This past weekend we took a trip to Sedona! It is still so hard for me to believe that we can just hop in the car and drive over and be in Sedona in just a couple hours – but we did. We had considered driving out and spending the night before and begin our hike early, but the kids ended up having a birthday party and a playdate, so opted for the day-trip on Sunday.
We decided to do the Bell Trail per the suggestion of one of Mike's co-workers. It was only supposed to get up into the low 90s, (ha!) so we ended up bringing Bella along with us!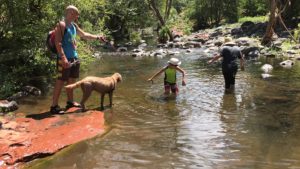 The main parking area was full, so we had to park in the overflow lot which put us on a different trail until we could meet up with the main trail. We hiked in and it was rocky and sandy. The views were stunning! Luckily, we all had on our hats (well, not Mike) and sunscreen. We hiked in and ended up at the stream. We were all pleasantly surprised at how slippery the rocks were! Mike ended up using Bella's leash to help the kids in the water. It was quite a sight.
We went upstream a little bit and met a guy with two boys Violet's age. The boys ended up showing the kids a rope swing and the best places to jump into the stream. It was over Mike's head, so it was a safe place for them to jump in. They all had an awesome time.
After a while at that spot, we went with our new friend and his boys and we hiked up to another spot. The rocks here were different, but still SUPER slippery. The kids were using them as slides. We were grateful for the water because it was pretty hot.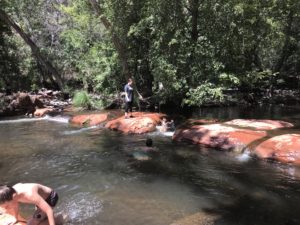 Once the everyone had their fill at the new spot, we hiked back to where we met, swam a little bit more and said our farewells. The hike back was pretty hot, so Mike ended up carrying Bella for a little bit of it when we were directly in the sun. To save the kids a further walk, I stayed in the main parking lot with the kids and Bella and Mike went off to fetch the car. It was so thoughtful of him to do that – we were all extremely appreciative that we didn't have to walk a lot further in the sun. As a nice treat, we stopped by McDonalds to pick up some junk food and ice waters. 
Can't wait until next time!
[/vc_column_text][/vc_column][/vc_row][vc_row][vc_column][vc_btn title="View all our pictures from Sedona" color="primary" align="center" i_icon_fontawesome="fa fa-camera-retro" add_icon="true" link="url:https%3A%2F%2Fphotos.app.goo.gl%2Fxk6KvWkUrTpLXrLJA||target:%20_blank|"][/vc_column][/vc_row]