School starts back up this week, and the temperature in Phoenix was anticipated to be 115+ this weekend. Since this summer has been a little rough on the kids, combined with the fact that my boss made me take some days off and San Diego was 20+ degrees cooler, we decided to drive over to the shore for a few days.
The drive over was a really easy and uneventful 5 hours. Uneventful likely because there wasn't much traffic heading to San Diego on a Thursday morning during a Covid-19 Pandemic.
We stayed at a hotel on the bay in San Diego. They did great with requiring masks and enforcing social distancing. As soon as we arrived, we took the opportunity to swim in the pools and get settled in a little bit. Then we walked a mile down to the ocean. The water was very cold, but Hayden went all the way in so he could enjoy the waves. Vi and I went in up to our knees, then Violet went in a little bit more. Mike went in with Hayden, but didn't go all the way under. It was too cold for him! On our walk back, we stopped for some gelato on the boardwalk.
Once we got back to the hotel, we all went swimming until we were all too cold from the "cold" wind, ordered some poolside dinner and then drove up to La Jolla Cove. We walked along the shore for a while and once we reached to cove, we sat and watched the sunset surrounded by sea lions. It was pretty incredible.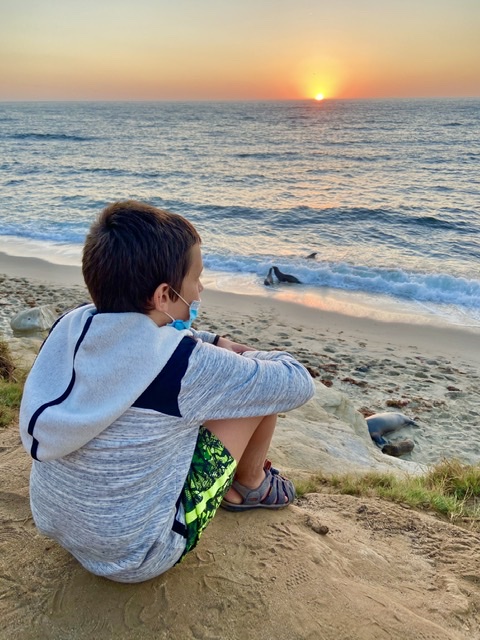 Hayden watching the sea lions at the beach and the sunset.

On Friday, we headed to the San Diego Zoo. We got there early since even though we had our tickets in advance, we wanted to make sure we could get in without a wait since they were limiting the number of people in at a time. We really liked this zoo! We'd highly recommend it. We managed to get through most of the zoo without being near any other people, but still wore our masks (as per the requirement of the zoo).
After the zoo, we went to a fancy Mexican restaurant and had some super delicious food for lunch – and everyone even tried the ceviche. The kids weren't huge fans, but they at least ate it!
We drove back to our hotel and then walked back down to the beach. We bought some souvenirs, which included a football. We spend a fair bit of time throwing it around on the beach and then we stopped at a park on our walk back for some fun. After nearly 9 miles of walking for the day, we were all ready for bed.
Today was our last day in San Diego. We woke up early and Mike and I walked down to the beach and up to the pier. On our walk back, we stopped for coffee and breakfast. With our hotel, we got free 'rental' of kayaks and paddle boards, so we took advantage of that and all paddled out into the bay. Mike started out on the paddle board while Hayden, Violet and I took kayaks. Hayden had some issues with his seat, so he and Mike switched and then not too long after that, Violet wanted a turn on the paddle board. Amazingly, no one fell in the water during those transitions. After a fun time on the water, we packed up and drove back.
We had a wonderful time together on our whirlwind vacation.
In case the button doesn't work above, here's the link to the album: