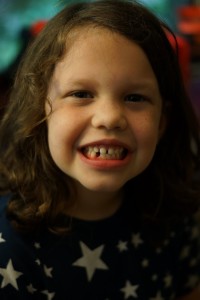 The tooth fairy will be making a visit tonight. Yet again. This will be for tooth number three! Today, we were getting ready to go to one of my friend's house for lunch and Violet came running into the kitchen, yelling, 'hey look!! my tooth is loose!' I took a feel and determined that it was going to be coming out today. She decided, however, that it would be coming out sooner than evening.
She started working on moving it pretty rigorously, and it started bleeding. Up until then, she was more excited about it coming out than anything else. But once the blood came, she was pretty concerned. I gave her a cold, wet paper towel and she continued to work on taking it out. Within ten minutes, she had it out. Then, after a few more minutes, the bleeding stopped and she was excited to head out the door.
If I had to guess, she has at least two more teeth on their way out within the next few weeks – the top two front. She has a few more loose ones as well, but I think these will be out sooner than the rest. I didn't think that the one that came out today would be the next one, so who knows if I'll be right.
After dinner, we had a little birthday party for Mike's birthday and the kids decided to put all of the candles we owned on the cake. There were about 32, so they weren't too far off (but lighting them was lots of fun). After we had the cake, Violet saw the empty ziplock bag that held all of the candles on the ground and started to cry – thinking it was the bag that held her tooth. Once we convinced her that it wasn't, she calmed down.
We'll have to stock up on $1s so the tooth fairy can keep up on the buying of Vi's teeth! Hayden is a little jealous that his teeth aren't coming out yet. I reminded him that he got a stitch before Violet and he seemed to be all better.
Violet is really excited that she will be able to tell her teacher about how she's lost THREE TEETH already.