We went to Great Wolf Lodge for Hayden and Violet's birthdays this past weekend. Libby was home with both kids on Friday since Denise had the day off. The plan was to get all packed for the trip up north this weekend. That was the plan…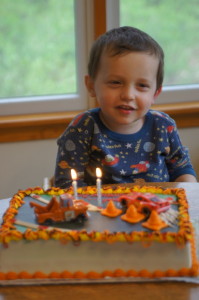 As it turned out, Hayden was sick with some sort of upper respiratory bug. Because of that, Libby had to keep him content all day. He managed to sleep relatively well through the night. On Saturday, we headed up to the Grandparents for Hayden's birthday party. After a nap in the car, Hayden awoke excited but not his usual energetic self as can be seen from the picture on the left. Hayden managed to get his presents open and play with them for a while until dinner.
Since Violet is not one to be out done, she decided that it was time for her ear to start hurting. Hayden was super fussy around dinner and Violet was consistently complaining about an ear ache. They were both doing so bad that I called up Great Wolf Lodge to see what their cancellation policy was.
During dinner, we decided that it would be a good idea to take Violet in to get antibiotics regardless of the decision to go to Great Wolf Lodge. As she was eating, she started tilting in her chair. I asked her once to stop and she did… …for a bit. She started to tip again and suddenly the chair went back and her head hit the metal bar of the exercise equipment in the front room where we were eating. Needless to say, Violet started crying. Violet cried and cried, Hayden was crying, it was a great birthday party! To get one crying kid out of the house, I decided to take Violet to Mercy Urgent Care.
Violet and I got to the urgent care facility at 7:45. We didn't leave there until close to 10. Violet did great in the waiting room. We got checked in and then she wanted to go outside and smell flowers. After doing that, we balanced on the curbs for a while and then walked over to the old helipad. I explained to Violet what it was for. She bent down to look at something on the ground. As she stood up, she hit her head (again) on a light pole for the helipad. We both decided that it was time to go inside. As we went inside, I showed her the vending machines. Violet pushed the buttons to see what prices the candy were. After about 10 minutes of playing with the machine, we finally dispensed some mints.
After we got the mints, we sat and waited in the waiting room until close to 9. Violet usually goes to sleep about 8:45, so I was starting to wonder how she was going to hold up. At around 9, Bobbi Jo (Violet's Nurse) called us back. Bobbi measured Violet's height and weight. As it turns out, she is about 47 pounds and 41.5 inches with her shoes on (her height is key in the later portion of this post). After she got weighed, Violet sat down on the bed and started answering the nurses questions. Violet impressed the nurse since she told the nurse exactly when her hear started hurting, how old she was, what her birthday was, that she had a little brother named Hayden who was also sick, and that we were going to great wolf lodge tomorrow. The nurse was telling Violet about all of the fun things at Great Wolf Lodge like the waterpark and the story time at the end of the day (at this point, I couldn't cancel the trip!). After the correspondence with Violet, the nurse said that Violet is the smartest 3 year old she has ever known.
After another 45 minutes or so, the doctor came in and diagnosed Violet with an ear infection. Luckily, the Doctor gave her Zithromax which only required 3 doses once a day. After the doctor left, we were waiting for the prescription. Since it was 9:30, Violet was tired. I asked her if she wanted to lay down on the bed and tears started to collect in her eyes. She wanted mommy to rock her. I held her and talked to her about how we will see mommy in a little bit once we got the prescription. Soon after that, Bobbi Jo came back with the prescription which was called into Wallgreens and several Dora and Princess stickers.
The stickers and knowledge that we were leaving to see Mom perked Violet up. She was able to walk out, help me pay the copay while charming all of the ladies on the way out with her smile and comments about Great Wolf Lodge.
In order to get the antibiotic a chance to work, I decided to go get it from Wallgreens while Violet was still in the car so she could get a dose that night. Even though it was called in, they still said that it would be 15 minutes before the prescription was ready. In hopes that Violet would fall asleep, I pulled out of the drive through and into a dark spot. At this time, Violet started crying again and proclaimed that this was the worst night ever! She hit her head twice, she was bored at the hospital for a long time, and this is the latest she has ever stayed up!
Violet got calmed down a bit after getting the chance to talk with Libby on the phone. This was about 10 minutes into our 15 minute wait. I decided to press my luck and see if the prescription was filled. Luckily, when I pulled back around it was ready. I paid for it gave Violet a dose and headed for Grandma and Grandpa's house. By this time, it was 10:30 and Violet was still awake. After I put her in bed, she stayed up until Libby came down to give her a kiss goodnight.
With Hayden feeling miserable and Violet with little sleep, everyone was wondering how Sunday was going to be. I'll detail some of the adventures that we had in part 2 of this blog..