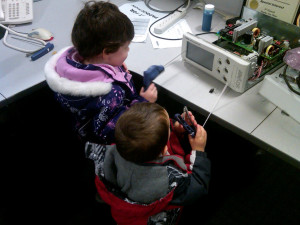 Today, Libby and I got a health screening at Stryker. Usually Libby and I do this over lunch, but this year, the timing didn't work out so we did it at 5:30.
Since we did it at 5:30, Violet and Hayden were in tow having fun at Stryker. To keep the kids quiet while we were waiting for our turn I got the kids ice. As they were chomping away, Violet informed us that when we get "doctored" she can stay in the cafeteria and watch Hayden.
After we got done getting blood pressure taken and fingers poked we walked back to my desk to grab my coat and computer. This is where the kids found some cool medical devices and started to play. They both did great and enjoyed the ice and toys.