"I was so impressed with your calm"…
Those were the words from a fellow daycare mom this afternoon via text. Looking back, I am surprised that I didn't freak out.
Today started fine – both kids slept in and although Violet complained of a tummy ache, she had no fever so we headed to daycare. The kids played really well together and they were so excited to go back to daycare after three days off.
Violet took off into daycare because she saw that there were three kids there already and she didn't want to miss out! Behind us pulled up another mom with daughter and Hayden decided to race into the house. I was talking with the other mom and I watched as Hayden tripped and smashed his head into the steps to daycare. Might I mention, they're cement steps?
I didn't realize how bad it was, but he let out a loud scream and I picked him up to give him a hug and carry him inside. Well, I didn't see his face, but I hear the other mom, 'Oh, Libby…" I turned him to look and all I see is blood pouring down his face and neck and all over his clothes. I hurriedly took him in, set him on a chair and applied pressure and worked on cleaning up his face. All the while, the other kids are around him and he's screaming. Poor Denise – trying to keep the calm.
Once I get it all cleaned up, I realized that it wasn't just a cut, but should really get some attention – so off to Urgent Care we go. I asked him to hold the cloth to his head and he did great.
At Urgent Care, the first thing he asked was if he would be getting a sticker. The admission woman laughed and said of course. He did so great.
We got all checked in and we were seen right away. He was even smiling and telling jokes with me. The Dr came in and let us know that he was going to need one stitch. Well, since it was only one, he didn't want to numb it by injection (since it would be like 3 injections for only one stitch.) Instead, they used a cream – but it had to stay on for 30 minutes.
Now, I have to mention that this happened BEFORE he had breakfast. So, by now, he was hungry and having a hard time sitting still. The nurse asked him to lay down for the 30 minutes. It was pure fun. [/sarcasm].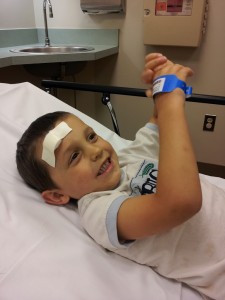 Oh, and I didn't have any phone signal, so I couldn't keep him occupied with the internet. Luckily, we looked through pictures on my phone and made up stories from pictures of some of the magazines in the room.
The time was up and in came the nurse and Dr with a tray of all sorts of fun stuff. Hayden wanted to inspect it all and I think the Dr was nervous that Hayden would freak out or something about the needles and scissors and clamps and etc – but he really just wanted to ask questions and know what was going on.
The nurse held his head and I got to hold both of his hands and kind of hold down his body. Finally, the stitch went in and Hayden tensed up and said that it hurt "REALLY BAD" but there were no tears and no crying. He did such an awesome job.
After we were all done, he made sure to ask the nurse for a sticker. She made the mistake of taking us into a room with a drawer full of stickers. He found one right away and was super excited. Then, however, he noticed that there were TRANSFORMER STICKERS! He said very loudly, "TACO WOULD LOVE THIS! Can I have this one for Taco?!" She looked at me and I snicked and explained that Taco was his imaginary friend. She smiled and told him, 'of course Taco can have one.' He beamed and as we were leaving said goodbye to everyone we saw. He even joked about trying to leave through the window instead of the door.
Hayden and I both survived his first true accident and I managed to handle his blood and stitch without incident. But really, I'm hoping that I don't have to go through this again anytime soon. In 5 days we have to go back to have the stitch removed. Yay.
We made it back to daycare and everyone was so glad to see him. He walked in the door and announced that he was starving.
I think he'll be just fine.